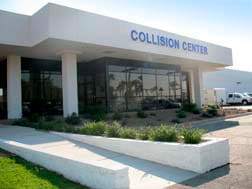 Our Body Shop & Collision Center is staffed with the most qualified technicians ready to answer your questions and address your body shop needs. Use our online form to schedule an appointment or contact our body shop if you have any additional questions. 
Expanded Customer Parking

Children's play area

42" Big Screen LCD TV

Customer kitchen area (with free coffee)

Vending machines

Courtesy phone

A "Private Office" area for insurance appraiser

Lifetime limited warranty against defective workmanship for as long as you own your vehicle.

Courtesy shuttle throughout our local area

We work with all insurance companies

Expanded parts storage room to safely store our customer interior parts

Covered estimate parking, with a drive on lift for more accurate estimating to ensure reduced cycle time for both insurance companies and vehicle owners
At Berge Ford Collision Center..."YOU WILL BE SATISFIED!" We handle everything from major collision repair work to minor scratches and dents. We have the skilled staff and technology to improve your vehicles appearance. We know everyone from Mesa and beyond will be satisfied with our high quality auto body work.

AXALTA "PERFORMANCE ALLIANCE" MEMBER (DuPont is now Axalta)
Berge Ford is an Axalta Performance Alliance member. This should help give everyone in the greater Mesa area an enhanced feeling of confidence and trust when you bring your new or used vehicle into our auto body shop and collision repair center for body work or accident repair. We know getting into an accident is stressful, so getting your car repaired and painted should not be. You will be pleased when you get your vehicle back and it looks even more new than it did before your mishap. For fast and reliable collision repair check out our Rapid Repair Program.

When you work with a Performance Alliance shop, you get:
       1. A high-quality repair.
       2. Better, more streamlined relationships between you and your insurance company.
       3. Accountability. We follow strict quality-control standards, but should a mistake occur, we will recognize and resolve the problem quickly
See what NASCAR's, Jeff Gordon, has to say about Axalta Performance Alliance members... Click Here!
OUR VISION STATEMENT
At the Berge Ford Collision Center, our vision is to be THE collision repair facility of choice for our customers, our insurance partners and our employees in the Mesa, Chandler, Gilbert, Scottsdale and Tempe areas.
We will continually focus our efforts to exceed our customer's expectations by providing extraordinary customer service and excellent quality repairs.
We will encourage our employees to always seek more efficient ways to solve our customer's concerns and to repair their damaged vehicles by systemizing the routine and humanizing the exceptions, such that our customers will be "wowed" by their experience at Berge Ford.
To sustain our long-term success and reputation, all decisions will be based on serving our customer well, on integrity and on professionalism. We will be guided by "doing the right thing" all the time.
We will nurture a culture that encourages hard work and continuous self improvement, where creativity and self direction are recognized and rewarded; where enthusiasm and a respectful attitude to others is the norm; where personal ego is subordinate to the company's goals; where employees take responsibility and are accountable for their own efforts and results; and where our employees are empowered to continually discover and suggest potential areas of improvement with the systems and the company.

More About Mesa Auto Body Repair & Collision Shop - Serving Chandler, Gilbert, Scottsdale & Tempe

You can find Berge Ford at 460 East Auto Center Drive in Mesa, Arizona.
Ready to pay us a visit, but can't quite remember the best route to get to our Mesa location? Use the Driving Directions we have provided our greater Mesa customers!     
The fully-equipped Berge Ford's Auto Body Repair Shop is ready to serve our clients with professional collision repair in Mesa, Arizona. We operate closely with insurance companies to ensure that we can return your vehicle to a like-new state as quickly as possible. The paint shop works meticulously to match all colors and trims, yielding a factory quality finish.
When your Ford requires body repair after a collision or other accident, please complete our body shop appointment form and one of our repair specialists will contact you as soon as possible. You may also call us or stop in and visit us at 460 East Auto Center Drive and experience the Berge Ford difference today!